REPORTS AND TESTIMONY ABOUT NEW YORK CITY'S MARIJUANA ARREST CRUSADE

$75 Million A Year: The Cost of New York City's Marijuana Possession Arrests
by Harry G. Levine & Loren Siegel – March 2011 – new
Report released with the Drug Policy Alliance about the cost of arresting 50,000 people a year.
Testimony to the New York State Senate Regarding Marijuana Arrests – June 2011 – new
Includes new data showing NYPD arrests by precinct and arrests in 13 counties and cites in NY State
The Epidemic of Pot Arrests in New York City, by Harry G. Levine, Alternet.org – Aug 2009
Oped summary of arrests in NYC and other cities.

Marijuana Arrest Crusade: Racial Bias and Police Policy in New York City, 1997-2007,
by Harry G. Levine & Deborah P. Small. April 2008
New York Civil Liberties Union (NYCLU) report, 100 pages, graphs and detailed description of the arrests.
New York City's Marijuana Arrest Crusade ... Continues - 2009
Brief update of the above report with new graphs with 2008 data, and a table with 2009 arrests. Sept 2009, updated Jan 2010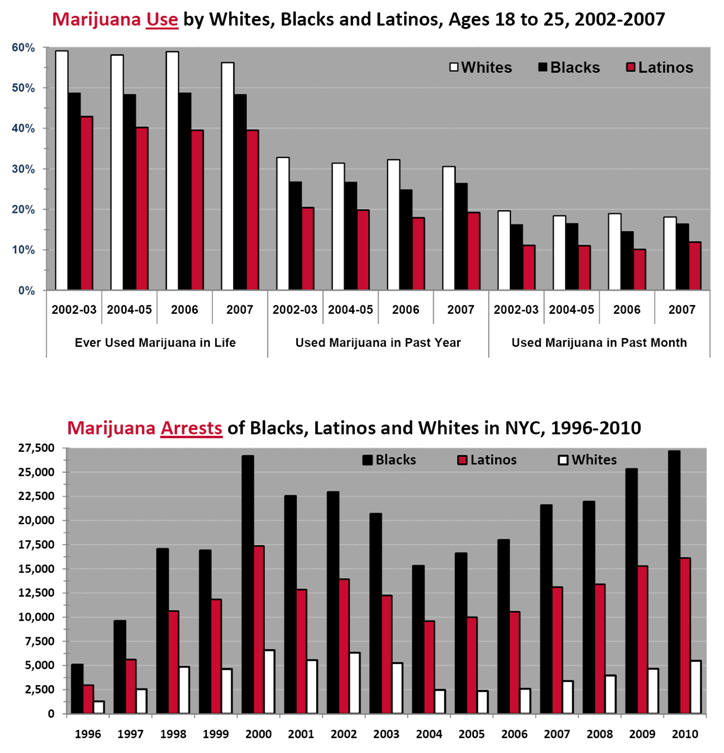 Source: Click here for tables with full source information.
_______________________________________________________________________________________________________________|
Marijuana Arrests in New York City

• U.S. government studies have consistently found that young whites use marijuana at higher rates than young blacks or Latinos. Yet, in large cities and counties throughout the United States, blacks and Latinos are arrested at much higher rates than whites.
• In 2010, the New York Police Department arrested blacks for marijuana possession at seven times the rate of whites, and Latinos at nearly four times the rate of whites. In New York City 87% of the people arrested for marijuana possession are blacks and Latinos.
• In 2010 the NYPD made 50,383 marijuana possession arrests. Since 2002, when Bloomberg became Mayor, the NYPD has made 350,000 marijuana possession arrests. Year after year, New York City makes more marijuana possession arrests and jailings than any other city in the world.
• In 2010, the NYPD arrested and jailed more people for possessing a small amount of marijuana than for any other crime. In 2010 one out of every seven arrests in New York City for anything was for misdemeanor marijuana possession.
• It now costs New York City at least $75 million dollars a year to arrest and jail people simply for possessing marijuana.
• Most people arrested for marijuana are young. In 2010, 23% of the 50,300 people arrested for lowest-level marijuana possession in New York City were teenagers; 56% were under 25 years of age; and 68% were under 30 years of age.

• The marijuana arrests target people who have never been convicted or even arrested before. Of the 50,300 people arrested for marijuana possession in NY City in 2010: 30% had never been arrested before for anything; another 40% had never been convicted or plead guilty to anything, not even a misdemeanor. Mostly the charges were dismissed or dropped. In other words, 70% of the people arrested for marijuana possession had never been convicted of any crime whatsoever. Another 11% had a previous conviction only for a misdemeanor.

• Since 1977 and the passage of the Marijuana Reform Act, the possession of 25 grams or less of marijuana (7/8th of an ounce) has NOT been a crime in New York State. Under New York State law, possession of a less than an ounce of marijuana is a violation, like a traffic violation.
• Most people arrested for marijuana in New York City were not smoking marijuana and did not have marijuana in public view. Most people simply had a small amount buried in their pockets or belongings. Most of the arrests were made as a result of a police stop. Police officers either tricked people into taking out their marijuana, ordered them to do so, or illegally searched their pockets and belongings.
• The marijuana possession arrests do not reduce serious crime or violence, but they are very useful for significant groups within the police department. The arrests are relatively safe and easy, provide training for rookie police, and allow patrol and narcotics officers and their supervisors to make overtime pay. They produce records of police activity and help supervisors keep track of what officers are doing. The arrests are also the most effective way for the NYPD to collect fingerprints, photographs and other information on young people not yet entered in the criminal databases.
• New York City's racially-biased marijuana arrests are extreme, but they are not unusual. Large cities and counties throughout the United States arrest blacks and Latinos for marijuana possession at three, four, five, and up to ten times or more the rate of whites. Los Angeles arrests blacks at seven times the rate of whites, just as New York City does. Chicago does as well. Many other cities arrest blacks for marrijuana possession arrests at very high rates, primarily young men. Along with DNA collection for misdemeanors and other policing policies, this produces an institutional form of unjust discrimination that some have termed "racism without racists." The law professor and scholar Michelle Alexander has rightly described this as "the new Jim Crow."

(Sources for these statements are in reports
available at marijuana-arrests.com.