• FIRST PAGE
• GRAPHS & TABLES
New York City's Marijuana Possession Arrests
• DOCUMENTING THE ARREST CRUSADE

California's Marijuana Possession Arrests
• REPORTS & NEWS COVERAGE
News About Race and Marijuana Arrests
• WASHINGTON DC, CHICAGO, ETC.
• U.S. MARIJUANA ARRESTS 1965-2010

Consequences and Context
• COLLATERAL CONSEQUENCES
• STOP & FRISK NEW YORK (news excerpts)
• STOP & FRISK REPORTS AND DATA
• ILLEGAL SEARCHES & QUOTAS (coming)
• MORE RESEARCH & WRITING (coming)

Breaking News
• 9/2011: NYPD COMMISSIONER TELLS
NYPD TO STOP IMPROPER ARRESTS
• 12/2011: FOLLOW UP: NOT MUCH CHANGE
________________________________________
STOP AND FRISK REPORTS, DATA, GRAPHS
The NYPD's many racially-biased marijuana possession arrests are a product of its even larger number of racially-biased stop and frisks, over 600,000 recorded stops in 2010 and an unknown number of unrecorded ones. The following offer some help in understanding what has been going on.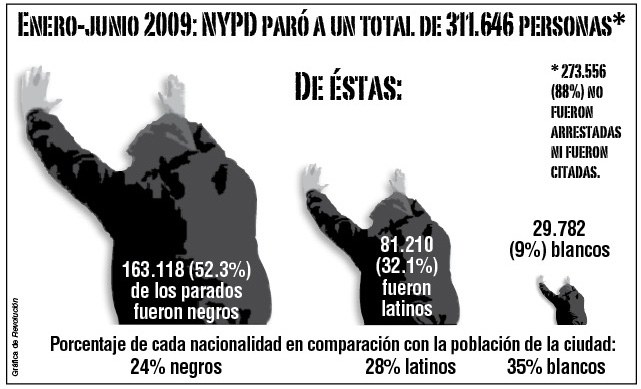 Source unknown
Dr. Delores Jones-Brown et al. Stop, Question & Frisk Policing Practices In New York City: A Primer.
John Jay College of Criminal Justice, City University of New York, March 2010. With an introduction by Jeremy Travis, President of John Jay College
Professor Delores Jones-Brown has prepared an essential document with tables, graphs, and key information about the NYPD's stop and frisks. As Jeremy Travis explains in his introduction, the Primer "presents available data on stop, question and frisk practices in New York City" including trends, maps, reported reasons for the stops, "results of the stops, and the racial breakdown of the New Yorkers who have been stopped." In its final pages the report includes links to: The 1999 report on stop and frisks by the office of NY State Attorney General Eliot Spitzer; the Center for Constitional Right's class action law suits against the NYPD and supporting documents; the NYPD's commissioned Rand report, and other material.

NEW YORK CIVIL LIBERTIES UNION (NYCLU)
The NYCLU has filed federal law suits, fought for reform legislation, and done much else to force the NYPD to make public its data and try to curb its intrusive and biased stops and frisks. This links to the NYCLU's listing of stops and frisks from 2004 through 2010 with links to other information.
STOP AND FRISK NUMBERS (# of blacks, whites, Latinos, innocent 2004-2010)
NYCLU GRAPHS showing the stop and frisks
STOP AND FRISK CAMPAIGN (numerous links)
CENTER FOR CONSTITUTIONAL RIGHTS (CCR)
The Center for Constitutional Rights has filed two federal law suits against the NYPD and its stop and frisk practices, and sought in multiple ways to bring the issue before policy makers and the general public. Below are links to various documents with links to yet others at the CCR Stop and Frisk pages showing graphs, videos, links.
STOP AND FRISK PAGE
FACT SHEET ABOUT STOP AND FRISKS (PDF)
REPORT: Racial Disparity in NYPD Stop and Frisks
Floyd et al v NYPD (current case and documents)
Daniels et al v the NYPD (older case, filed in 1999, settled in 2007)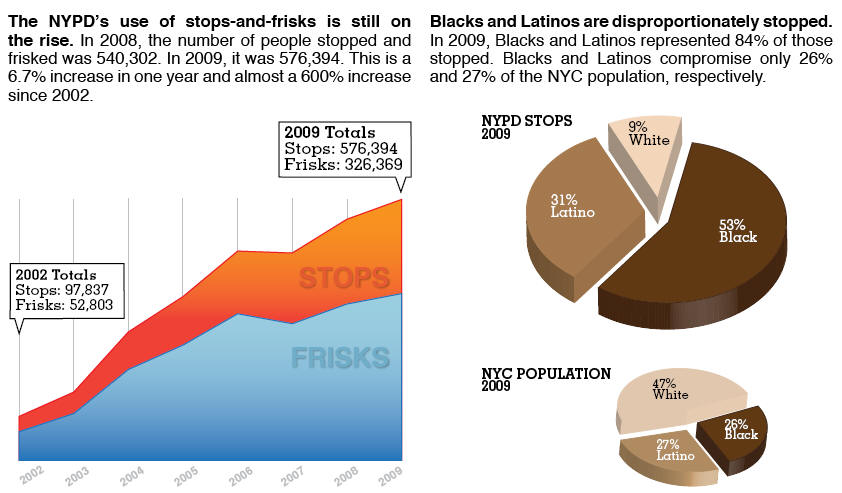 OTHER MATERIAL
Stop, Question and Frisk in New York Neighborhoods (Interactive Map at NY Times) July 11, 2011
NEW YORK TIMES CHART SHOWING WHITE AND BLACK POPULATION AND POLICE STOPS IN 2007
New York Times article about Stop and Frisk in NY Neighborhoods, July 12, 2010.