Criminal Court Summonses in New York City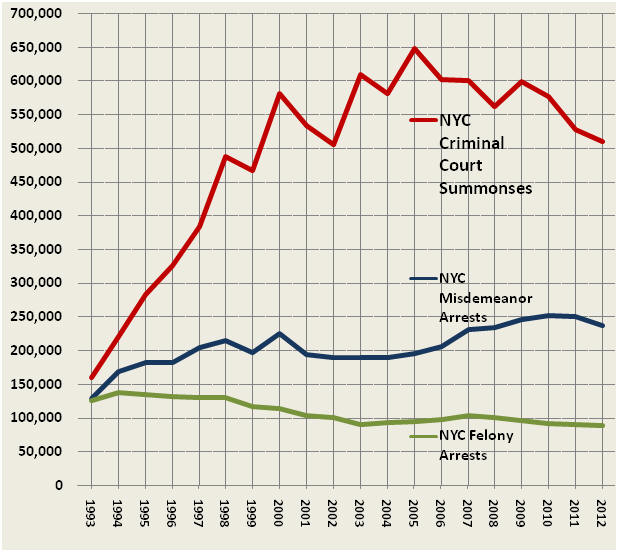 The above graph and others are in:
Criminal Court Summonses in New York City, presented at the public event:
Summons: The Next Stop and Frisk, CUNY Law School, New York, April 24, 2014
See also:
Examining the Operations of New York City's Summons Courts, Testimony
by Harry G. Levine to Hearings of the New York City Council, December 15, 2014
"The Warped World of Summons Court" by Brent Staples, NY Times and other
reporting on New York City's criminal court summons system
NY DAILY NEWS COVER STORY AND SPECIAL REPORT - Aug 4, 2014:
Beyond Broken: Quality of Life Policing Targets Blacks and Latinos
- in an easy-to-read pdf with links
- on the Daily News web site here:
Broken Windows Policing: A True Tale of Two Cities
report from PROP - Police Reform Organizing Project - Aug 2014
550,000 NYPD SUMMONSES A YEAR
In 1993, New York City had similar numbers of misdemeanor arrests, felony arrests, and criminal court summonses. In the twenty years since then, felony arrests have declined by thirty percent, misdemeanor arrests have increased by eighty-three percent, but the number of criminal court summonses has more than tripled. By 2012, there were twice as many criminal court summonses as misdemeanor arrests, and nearly six times as many summonses as felony arrests.
Like New York City's large number of marijuana possession arrests, these "quality of life" summonses are fruit of the City's aggressive policing of some but not all neighborhoods. Although unknown to most middle-class and white New Yorkers, summonses are a familiar part of life for the people in New York City's predominately black and Latino neighborhoods.

Few people understand much about the large number of summonses given out or how the summons system works. Many people issued a summons think they are comparable to automobile tickets. But the summonses have more serious consequences than most routinetraffic offenses. And they are handled by an entirely different court system – a subsection of the New York Criminal Court.

Patrol officers write tickets and make arrests where they are assigned to patrol, and that is mostly in the City's primarily black and Latino neighborhoods. (For a map showing those precincts and a list of them see: http://marijuana-arrests.com/maps-NYC-pot-arrests-race.html).
The summonses require that people show up at the criminal court on a specific date to pay a fine. In 2009 and 2010, the third most frequently issued summons was for riding a bike on the sidewalk. Because the summonses are given out most heavily in low-income neighborhoods, white middle-class parents may not even be aware that teenagers can get a summons for riding a bike on a sidewalk.
In New York City's public housing developments, however, the tickets are so common that teenagers from poor and working-class families will beg police officers to give them a summons for having an open alcohol container rather than a ticket for a bike on the sidewalk. Why? Because the fine for an alcohol container summons is $25 but the bike summons is $100. The teenagers who live in the City's housing projects have a chance of raising $25 to a pay a fine, but they usually cannot get $100 from their families to pay a criminal court fine for a summons.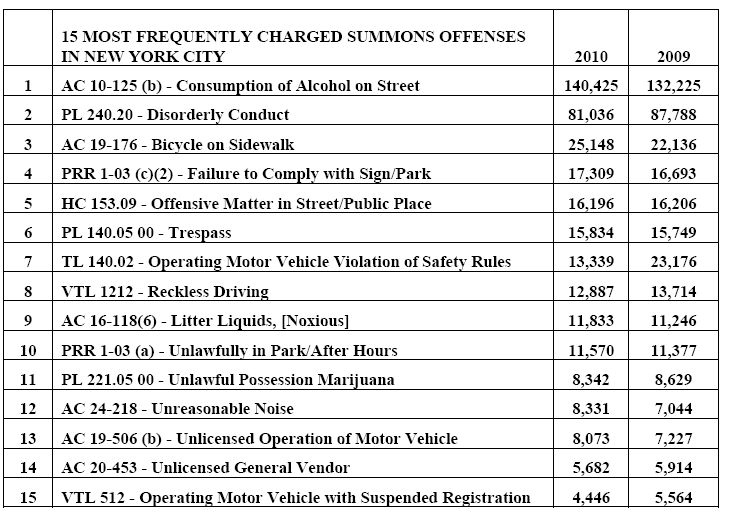 Data from New York State Criminal Court Annual Reports
http://www.courts.state.ny.us/COURTS/nyc/criminal/annual-reports.shtml
========================================================================
MAJOR COLVIN AND THE BROWN PAPER BAG
The Wire, Season 3, Episode 2, 54 minutes, the end of the show.
Written by David Simon and Richard Price.
Major Howard "Bunny" Colvin (Robert Wisdom) comes to the podium to address the roll call of his cops. The night before one of his cops -- Patrol Officer Kenneth Dozerman -- had been shot while sitting in his unmarked car during a buy and bust to get three small vials of a drug. The cops at roll call don't know it, but Major Colvin is about to announce that he is ordering his troops not to arrest anyone for possessing or handing off a small amount of drugs.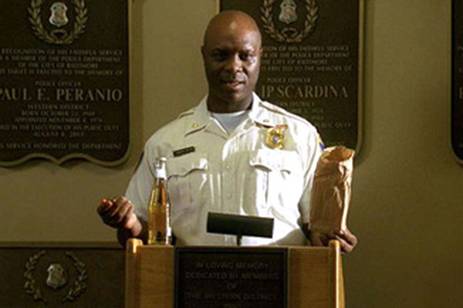 Major Colvin puts a capped bottle of beer on one side of his podium, and a small upright brown paper bag on the other side, so all can see. He begins: :
"Somewheres back in the dawn of time, this district had itself a civic dilemma of epic proportion. The city council had just passed a law that forbid alcoholic consumption in public places, on the streets and on the corners. But the corner is, and it was, and it always will be the poor man's lounge. It's where a man wants to be on a hot summer's night. It's cheaper than a bar, you catch a nice breeze, you watch the girls go by.
"But, the law is the law. The Western [district] cops rolling by, what were they gonna do? If they arrested every dude out there for tippin back a Hi Life, there'd no other time for any other kind of police work. And if they looked the other way, they'd open themselves to all kinds of flaunting, all kind of disrespect.
"Now this is before my time when it happened but, somewhere back in the fifties or sixties, there was a small moment of god damn genius by some nameless smoke hound who comes out of the Cut Rate one day. And on his way to the corner he slips that just-bought pint of elderberry into a paper bag. A great moment of civic compromise."
That small wrinkle-ass paper bag allowed the corner boys to have their drink in peace. And it gave us permission to go and do police work -- the kind of police work that is actually worth the effort, that's worth actually taking a bullet for them.
Dozerman, he got shot last night trying to buy three vials, three! There's never been a paper bag for drugs, until now.
-------
Next scene: Officers Carver and Herc, assigned to Colvin's district, are sitting in their police car on the street where drug purchases of a few vials are happening.
Herc: "If we aint doin hand-to-hands, then what the fuck. And this shit with the bag? What the fuck is that?"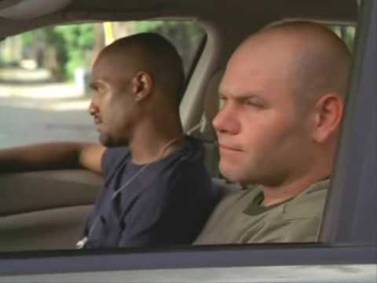 Carver and Herc
_________________________________________________
The story of bunny Colvin is beautifully told with a poetic and metaphoral truth -- but it is historically inaccurate. The custom of not arresting people who had a beer can or bottle in a brown paper bag developed in the U.S. in the years following the repeal of national alcohol prohibition in 1933 and 1934. It was respectd by police departments throughout the U.S. in big cities and small villages until about the 1990s. As best as we have been able to determine, police in New York City under Mayor Giuliani and Police Commissioner Bratton began issuing criminal court summonses in large numbers for people possessing a beer can or bottle in a paper bag. Other police departments soon followed the NYPD's lead. In short, for sixty years - from about 1930 until about 1994 - the paper bag custom was respected by police. And then it was not. And it was enforced then and to this day primarily against low-income people, especially blacks and Latinos.
======================================================
WE ARE STILL IN THE PROCESS OF COLLECTING AND COMPILING INFORMATION ABOUT SUMMONSES AND EXPECT TO RELEASE A NEW REPORT SOMETIME IN THE MONTH.