BROKEN LIVES FROM BROKEN WINDOWS:
THE COLLATERAL CONSEQUENCES OF ARRESTS
FOR MARIJUANA POSSESSION & OTHER MINOR OFFENSES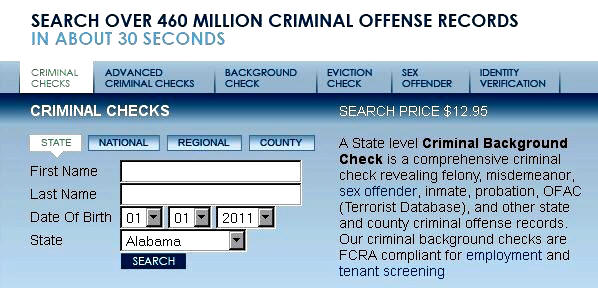 Permanent criminal records are the most important and least recognized harmful consequence of arrests for marijuana possession and other minor offenses.
In the early 1990s, when the epidemic of broken windows policing and misdemeanor arrests began, misdemeanor arrest and conviction records were papers kept in court storerooms and warehouses, often impossible to locate. By 2000, they were computerized.
By 2010 they were instantly searchable on the Internet for $20 or less through commercial criminal-record database services. A simple Google search for the phrase 'check criminal records' produces numerous links to firms, some claiming that their searches are better than the others. Some offer "50 state searches" for as low as $12.95, like the one above.

Employers, landlords, credit agencies, licensing boards for nurses and beauticians, schools, and banks now routinely search these databases for background checks on applicants. A simple arrest for marijuana possession can show up on criminal databases as "a drug arrest" without specifying the substance, the charge, or even if the person was convicted. Employers and landlords, faced with an abundance of applicants, often eliminate those with criminal arrest records, especially for drugs. Nurses, security guards, and others licensed by the state can lose their licenses and their jobs from just one misdemeanor marijuana arrest.
For legal immigrants, two guilty pleas to misdemeanor marijuana possession can lead to deportation, and one guilty plea can bar someone from ever returning to the U.S. Family court can remove children from a home because a parent is convicted or just arrested for marijuana possession. A person cannot be considered for public housing with an "open criminal case," including the typical probation for a first arrest for marijuana possession.
Police patrols and stop-and-frisks target the neighborhoods of low-income people of color, but not the predominately white and higher income neighborhoods. As a result, day after day and year after year, the police in New York and other major U.S. cities arrest young blacks and Latinos for possessing marijuana at higher rates than whites – even though they use marijuana at lower rates than whites. As a result, these low-income, vulnerable, young people suffer unfairly and disproportionately all these collateral consequences.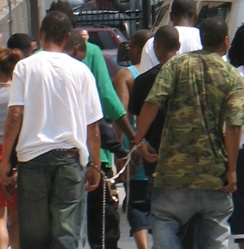 Young arrestees led into the Brooklyn Court House. Photo: City Limits
• "Broken Lives from Broken Windows: The Hidden Costs of Aggressive Order-Maintenance Policing" by K. Babe Howell, New York University Review of Law & Social Change, Vol. 33, p. 271, 2009
Professor Howell's article is the indispensible source for understanding the serious consequences of the NYPD's many misdemeanor arrests for marijuana possession, trespassing, and other minor offenses. Recommended by academics, researchers, and top journalists.


• Keeping an Arrest from Resulting in a Life Sentence in an Age of Full Disclosure of Criminal Records, by Hon. Cynthia Diane Stephens, Michigan Bar Journal. November 2008
Judge Stephens, who has been on the bench for over twenty-five years, explains some of the consequences of a criminal arrest record.
• No Cause for Marijuana Case, but Enough for Child Neglect. by Mosi Secret. The New York Times. Aug 17, 2011
Hundreds of New Yorkers who have been caught with small amounts of marijuana, or who have simply admitted to using it, have become ensnared in civil child neglect cases in recent years, though they did not face even the least of criminal charges, according to city records and defense lawyers. A small number of parents in these cases have even lost custody of their children.

• The Use Of Criminal History Records In College Admissions, Center for Community Alternatives, NY, NY, Nov. 2010
The first major study of the way criminal records limit college admissions. Based on a survey of 273 college admissions offices and registrars.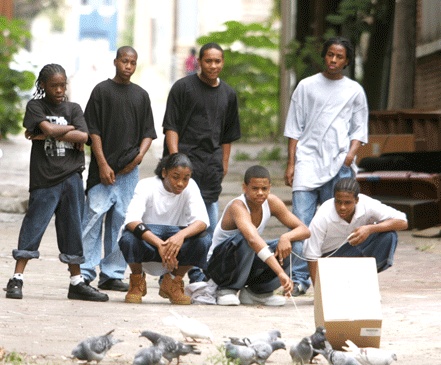 Teenagers from The Wire, Season 4


• Minor Crimes, Massive Waste: The Terrible Toll of America's Broken Misdemeanor Courts. By Robert C. Boruchowitz, Malia N. Brink Maureen Dimino, Rick Jones. National Association of Criminal Defense Lawyers, Washington DC, 2009
Prominent criminal attorneys report on the consequences of the ever growing number arrests for misdemeanors on the people arrested and on the overburdened courts. [Takes a long time to load; be patient.]


• The Price of Freedom: Bail and Pretrial Detention of Low Income Nonfelony Defendants in New York City. By Jamie Fellner. Human Rights Watch, NY. Dec 2010
A major report from Jamie Fellner and Human Rights Watch. Of the people arrested on misdemeanor charges who had bail set at $1,000 or less, 87 percent were incarcerated because they could not afford the bail. They spent an average of 16 days in Rikers Island before their trials. Most people incarcerated were arrested for nonviolent minor crimes such as possessing small amounts of marijuana and other drugs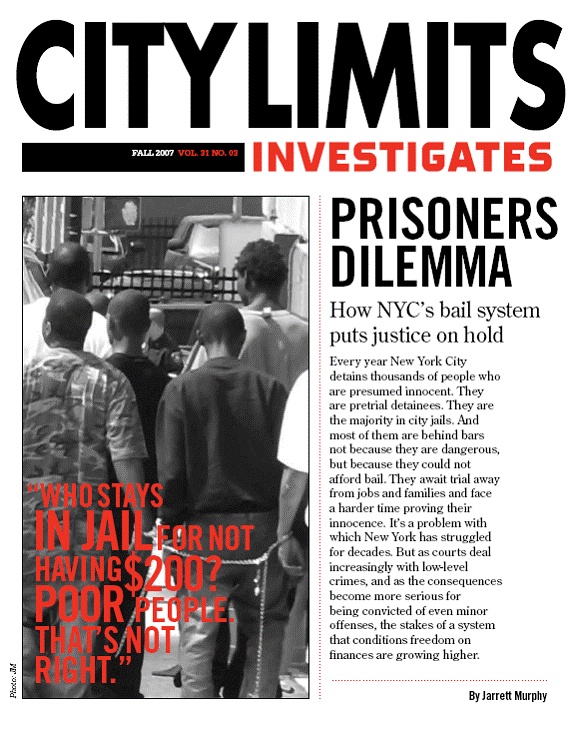 • Awaiting Justice: The Punishing Price of NYC's Bail System. By Jarrett Murphy. City Limits. Fall 2007.
City Limits magazine's excellent issue on bail, the courts, and NYC's ever growing number of misdemeanor arrests and jailings of young and poor people for very minor offenses. Of the more than 13,000 people imprisoned at Rikers Island at any time, roughly three quarters are pretrial detainees, the vast majority of whom are there because they could not afford bail. On line. Pdf.

[Under editor, writer and photographer Jarrett Murphy, City Limits has become an essential and often brilliant window onto New York City's people, institutions, and politics. At www.citylimits.org]
Photo by Mike Epstein at flickr.com


Click here to see the whole graphic from City Limits Magazine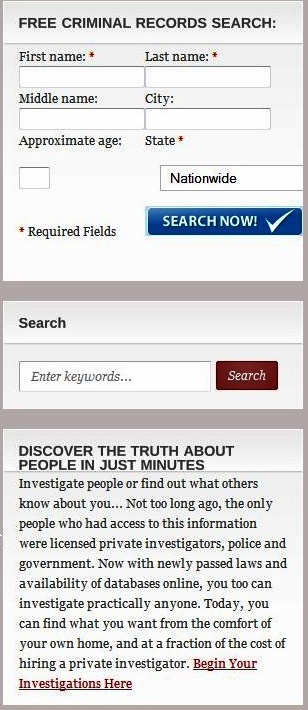 .
.