STOP AND FRISK REPORTS, DATA, GRAPHS
The NYPD's many racially-biased marijuana possession arrests are a byproduct of its much larger number of racially-biased stop and frisks, nearly 700,000 recorded stops in 2011 and a great many unrecorded ones, likely hundreds of thousands more. The following are essential sources of data and information about what has been happening.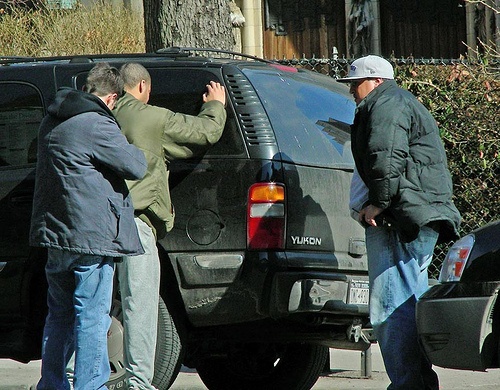 Frisk on Amsterdam Avenue, NYC / Ed Stern @ flickr.com
Dr. Delores Jones-Brown et al. Stop, Question & Frisk Policing Practices In New York City: A Primer (Revised 2013).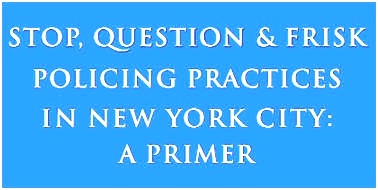 John Jay College of Criminal Justice, City University of New York, 2013. I
Professor Delores Jones-Brown has prepared an essential document with tables, graphs, and key information about the NYPD's stop and frisks. The Primer "presents available data on stop, question and frisk practices in New York City" including trends, maps, reported reasons for the stops, "results of the stops, and the racial breakdown of the New Yorkers who have been stopped." In its final pages the report includes links to: The 1999 report on stop and frisks by the office of NY State Attorney General Eliot Spitzer; the Center for Constitional Right's class action law suits against the NYPD and and other material.

NEW YORK CIVIL LIBERTIES UNION (NYCLU)

The NYCLU has filed federal law suits, fought for reform legislation, and done much else to force the NYPD to make public its data, and to try to curb its intrusive and biased stops and frisks. Below are the NYCLU's listing of stop-and-frisk data from 2004 through 2010 with links to other information.
STOP AND FRISK NUMBERS (# of blacks, whites, Latinos, innocent 2004-2012)
STOP AND FRISK 2011 (NEW REPORT, MAY 2012)
STOP AND FRISK NUMBERS (# of blacks, whites, Latinos, innocent 2004-2010)
NYCLU GRAPHS showing the stop and frisks
STOP AND FRISK CAMPAIGN (numerous links)
Also see:
SCHOOL TO PRISON PIPELINE: this critical project focuses on the over policing of New York City's public schools and the horror stories it creates. Graphs, fact sheets, reports.
MISSION FAILURE: The NYCLU's major report about the inability of New York City's Civilian Complaint Review Board to reign in the routine misconduct and abuses of the NYPD.

CENTER FOR CONSTITUTIONAL RIGHTS (CCR)

The Center for Constitutional Rights has filed two federal law suits against the NYPD and its stop and frisk practices, and sought in multiple ways to bring the issue before policy makers and the general public. They won a major court victory in September 2011 and May 2012 when a federal judge rejected the City's motion to dismiss the case and when the judge certified this a class action suit covering the NYPD's entire stop and frisk operation. Below are various documents with links to yet others at the CCR Stop and Frisk pages showing graphs, videos, further links.

INTERACTIVE MAP SHOWING STOP AND FRISKS BY RACE AND PRECINCT
STOP AND FRISK: THE HUMAN IMPACT - new report Summer 2012
FACT SHEET ABOUT STOP AND FRISKS (PDF)
RACIAL DISPARITY IN NYPD STOP AND FRISKS
Class-action Lawsuit Challenges Stop-and-Frisk Policy - May 16, 2012
Judge Scheindlin's decision of May 16, 2012

Floyd et al v NYPD (current case and documents)
Daniels et al v the NYPD (older case, filed in 1999, settled in 2007)
Jeffrey Fagan expert's report submitted in Floyd et al Vs. NYPD

Columbia Law School professor Jeffrey Fagan is the most knowledgeable and experienced researcher of stop and frisks, especially in NY City. Fagan has produced so much research on stop and frisks he is almost an entire industry. This links to the extensive brief he did on the Floyd case that won the attention and praise of both U.S. Judge Shira Scheindlin and the NY Times editorial board in September 2011.
The New York Times Sept 2, 2011 editorial, "The Truth Behind Stop and Frisk" is here.
POLICE REFORM ORGANIZING PROJECT (PROP)

Established in just 2011, PROP has created literature, organized well-attended public events, and mounted an impressive campaign aimed at exposing a range of unjust, wasteful, ineffective, and illegal practices of the NYPD including the stop and frisks, misdemeanor arrests and mandatory court summonses for marijuana possession and other petty offences, disproportionately in low income and black and Latino neighborhoods.

LITERATURE PAGE: A fact sheet of essential data about the NYPD's policing; PROP's accounts of people treated unjustly by the NYPD; "In Their Own Words" -- a report with quotes from 70 NYPD police about the enormous pressure put on them to meet quotas for stop and frisks, summonses and misdemeanor arrests; PROP's policy paper with essential critiques of NYPD practices.
STORIES - PROP NARRATIVE PROJECT: Summaries and excerpts of first person accounts of police stops, searchers and other encounters.
VIDEO TESTIMONIALS: Compelling first-person accounts of people who have suffered from abusive and injust encounters with NYPD.
OTHER MATERIAL
Excellent Interactive Map from NY Times showing Stop, Question and Frisk in New York Neighborhoods
New York Times Chart Showing White and Black Population and Police Stops in 2007
New York Times article about Stop and Frisk in NY Neighborhoods, July 12, 2010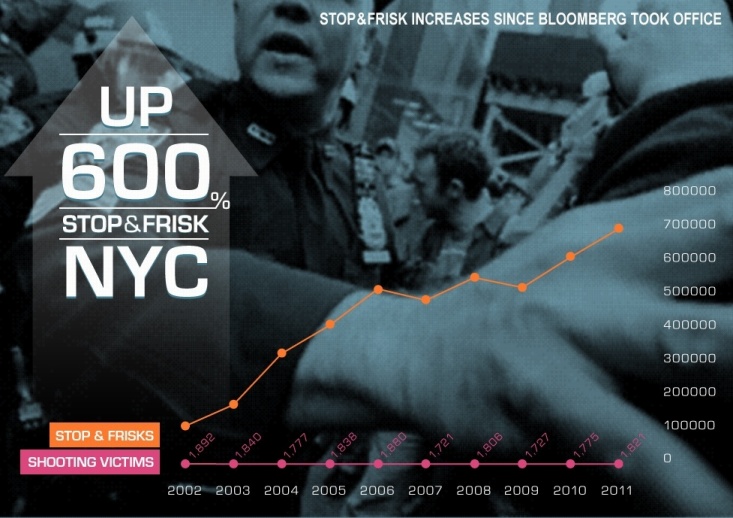 graph from DNAinfo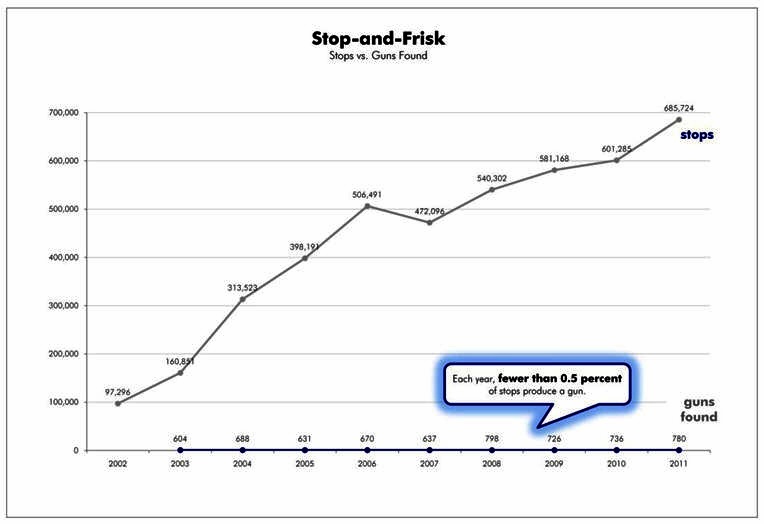 graph from New York Civil Liberties Union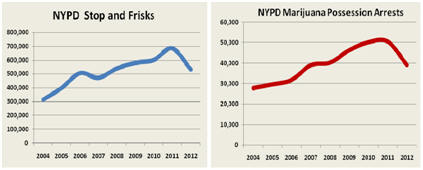 graph by Marijuana Arrest Research Project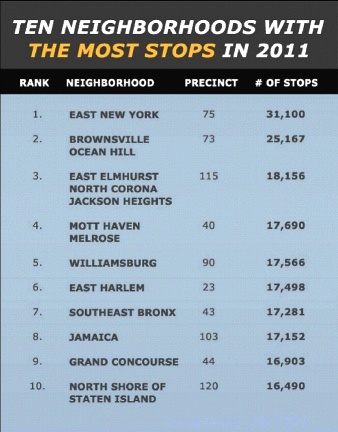 graph from DNAinfo NY


Source: NYCLU / Sara LaPlant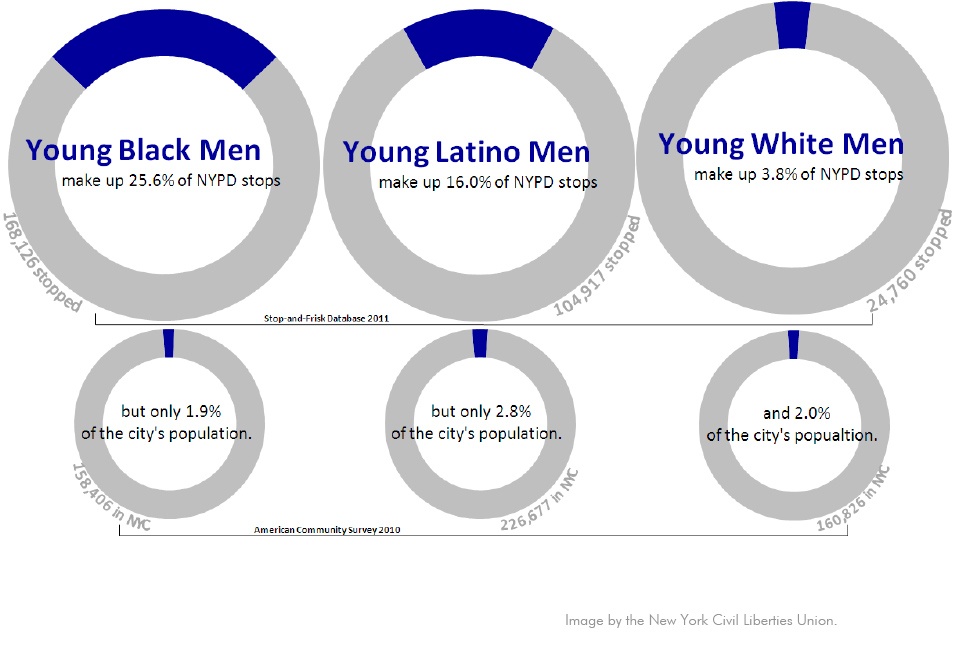 from the NYCLU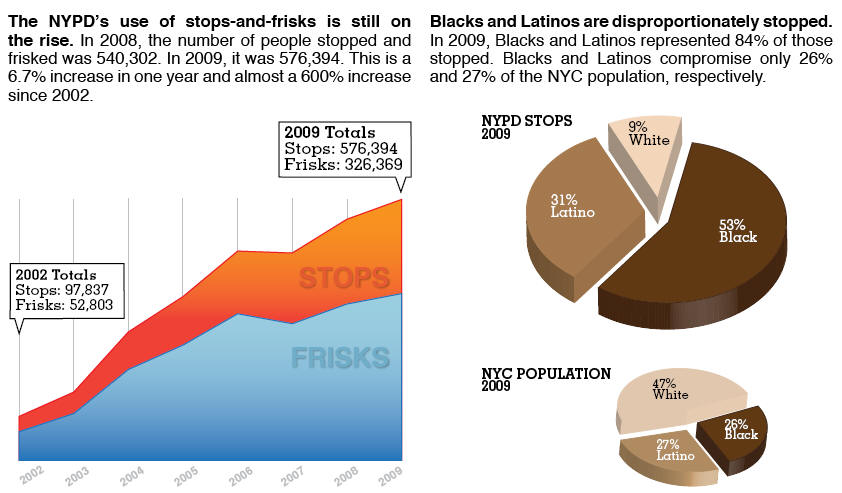 From Center for Constitutional Rights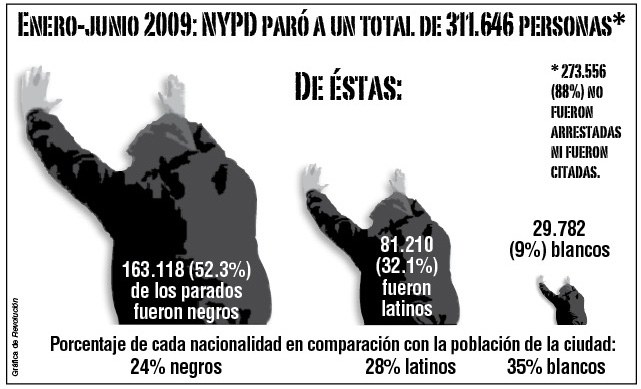 Source unknown