BREAKING NEWS - Sept 23, 2011
_________________________________________________________________________________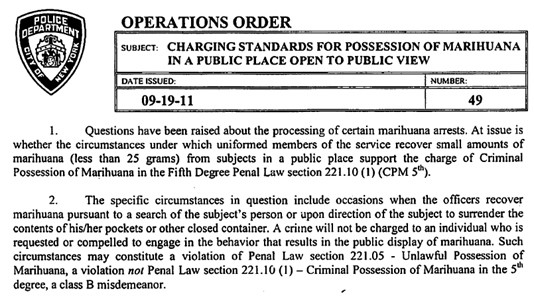 View a copy of the entire "NYPD Operations Order" @ HERE
_________________________________________________________________________________
The story begins with Dupont Award winning journalist Ailsa Chang's report on WNYC...
Police Commissioner Calls on NYPD to Stop Improper Marijuana Arrests / Friday, September 23, 2011 By Ailsa Chang / WNYC

Police Commissioner Ray Kelly has issued an internal order to the New York City Police Department commanding officers to stop arresting people for small amounts of marijuana possession, if the marijuana was never in public view. The directive comes at a time when the NYPD is taking increasing heat about alleged improper marijuana arrests. Kelly's Operations Order landed on the desk of police supervisors this week, and a copy of it was provided to WNYC...

In New York, possession of small amounts of marijuana is only a criminal offense if it is displayed in public. Kelly's order reminds officers that if marijuana comes into public view at the direction of an officer -- either when an officer pulls the drug out of a person's clothes or a person is ordered by an officer to empty out his pockets -- it's not a misdemeanor, and instead should only be treated as a violation, which is a ticketable offense.

More than 85 percent of those arrested for marijuana in New York City are blacks and Latinos in the poorest neighborhoods where the highest rates of stop-and-frisk occur. National studies show young whites smoke pot more than blacks and Latinos of the same age.

Kelly's directive arrives just as City Council members and legislators in Albany are calling for an end to improper marijuana arrests. A bipartisan bill has been introduced in the state legislature that would decriminalize small amounts of marijuana possession in public view. Bill sponsors Assemblyman Hakeem Jeffries and State Senator Mark Grisanti said they hope the proposed law will reduce incentives for police to improperly recover marijuana from people to make misdemeanor arrests.

NYPD did not respond to a request for comment

__________________________________________
NEWS & MEDIA COVERAGE OF KELLY'S ORDER
The New York Times followed with a strong editorial, as did the NY Daily News and many others. Will the NYPD end or substantially reduce the racially-biased and often illegal marijuana possession arrests? There is much reason to be skeptical. Complete 2011 arrest data will be available in February from New York State. Stay tuned... Below are some of the stories in the first weeks of the announcement.
"Trouble With Marijuana Arrests" New York Times Editorial / Sept 27, 2011
Commissioner Raymond Kelly of the New York Police Department came forth with too little, too late when he issued a memo directing officers not to arrest people caught with small amounts of marijuana unless the drug is in plain public view. A 1977 law decriminalized minor possession, yet tens of thousands are arrested every year.
In 2010, more than 50,000 people were arrested for possession of marijuana; a vast majority of them were racial minorities and male. Civil rights lawyers say that many of them were stopped as part of the Police Department's broad stop-and-frisk practice and were arrested after officers told them to empty their pockets, which brought the drugs into open view.
Commissioner Kelly's memo now makes clear that displaying the drug must be an "activity undertaken of the subject's own volition" and that individuals may not be charged with violating the law if the marijuana "was disclosed to public view at an officer's direction."
While the memo, reported by WNYC last week, is an important step, it does not by itself end the problem. The United States Justice Department and New York lawmakers should investigate the legality of practices that led to the arrests of hundreds of thousands of people since the mid-1990s.
Under New York law, possession of 25 grams or less of marijuana is a violation subject to a $100 fine for the first offense. Possession of any amount that is in public view, however, is a misdemeanor punishable by up to three months in jail and a $500 fine.
This statute was supported by district attorneys in the 1970s because they believed it would free the police to fight serious crimes. That changed in the mid-1990s when the city began emphasizing street stops as an important part of its policing approach. Since 1996, the city has taken more than 536,000 people into custody for the lowest-level marijuana charge, according to Harry Levine, a sociologist at Queens College who has tracked the data closely. From 1981 through 1995, that number was 33,700.
Police have characterized marijuana arrests as important for keeping criminals off the street. But, in testimony submitted to the Legislature this summer, Professor Levine estimated that a significant majority of those arrested in 2010 had never been convicted of any crime, based on an analysis of data reported to the state.
Young African-Americans and Hispanics, who are disproportionately singled-out in street stops, make up a high percentage of people arrested for marijuana possession — despite federal data showing that whites are more likely to consume marijuana. This policing practice has damaged young lives and deserves deeper scrutiny by federal and state monitors.
"Police Commissioner Ray Kelly Was Right To Ease Arrests For Small Amounts Of Pot" New York Daily News Editorial / Sept 29, 2011
Police Commissioner Ray Kelly has wisely clarified NYPD policy for charging New Yorkers who are found to be in possession of small amounts of marijuana. That should end an unfair practice that has driven the number of pot arrests sky-high.
In an all-too-typical situation, cops stop a young man for questioning and possibly subject him to a frisk. When they ask him to empty his pockets, he produces a small bag of marijuana. Cops bust him for the misdemeanor offense of possessing less than 25 grams of the drug in public view.
The injustice is obvious. The subject in question brought the pot into public view, committing the misdemeanor, only because he had been ordered to do so by the police. Otherwise, he would have been guilty only of a noncriminal possession violation, meriting the equivalent of a traffic ticket....
The department makes some 50,000 arrests for pot possession annually, an unknown number of which happen after police order people to reveal what they are carrying on their persons. Some drug-legalization advocates predict Kelly's clarification will cut pot busts by tens of thousands.
Foes of the tactic of stopping, questioning and sometimes frisking individuals deemed suspicious are cheering Kelly's move. These include Assemblyman Hakeem Jeffries and City Councilman Jumaane Williams, both of Brooklyn. They point to studies by Queens College sociologist Harry Levine indicating that black and Latino men have borne the brunt of pot arrests.
This is not to say the NYPD should abandon marijuana enforcement. The law is the law, but it must be applied fairly.
"Street Stops by the Police" Letter To The New York Times, By Scott M. Stringer. Manhattan Borough President. Sep 27, 2011
Re "Trouble With Marijuana Arrests" (editorial, Sept. 27): While Police Commissioner Raymond W. Kelly's memo may mark the end of the explosion in low-level marijuana arrests, let there be no doubt that the broader issues related to the New York Police Department's escalating use of stop-and-frisk remain as troublesome as ever.
We must retrain police officers to make street stops more constitutional and less confrontational, and to identify clear behavioral triggers for when a stop is justified. The one-size-fits-all explanation of "furtive movement" as a justification for the escalating stops of black and Latino New Yorkers is unacceptable and unconstitutional.
At the same time, precinct commanders should be held accountable for the proper execution of stops in their areas by making it a performance measure tracked by CompStat, the computerized system that tracks crime patterns.
By respecting all communities, and obeying the Fourth Amendment's ban on unreasonable searches and seizures, we can be tougher on crime and smarter on crime.
SCOTT M. STRINGER, Manhattan Borough President
State Lawmakers Congratulate NYC Police Commissioner Kelly
WNYC, By Ailsa Chang. Sep 27, 2011
State and local lawmakers are congratulating Police Commissioner Ray Kelly for directing the police department to follow the law when making marijuana arrests.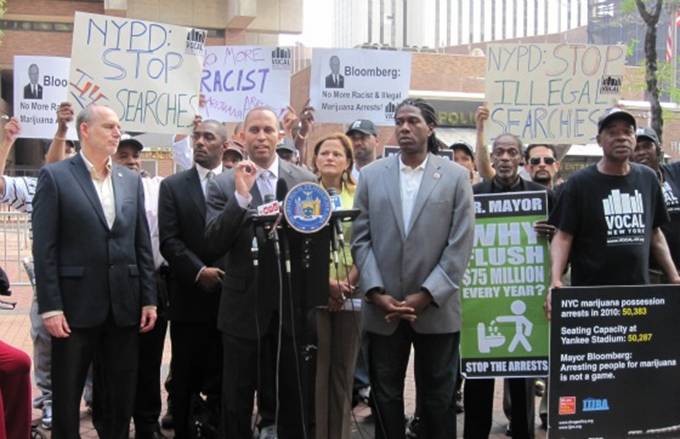 State Assemblyman Jeffries (speaking), Councilwoman Melissa Mark-Viverito and Councilman Jumaane Williams commende Commissioner Kelly for directing the police department to follow the law when making marijuana arrests. Photo: Ailsa Chang/WNYC
Following NYPD's Change On Marijuana Arrests, Advocates Want Police To Avoid Frisks
NY 1 By Zack Fink. 9/27/2011 (TV Video report)
Elected officials and advocates gathered in Manhattan on Tuesday to applaud the New York City Police Department's move to stop arresting people for possession of small amount of marijuana, but many still said the NYPD needs to address its "stop and frisk" policies.
Last year, 27-year old Alfredo Carrasquillo was walking on the street near his apartment in Harlem when he ran into two police officers. "A police officer runs up on me and asks where I am going, what I am doing. And before I could respond, he throws me up against the wall and frisks me, without any kind of reason or explanation," said Carrasquillo. The officer said police had been searching for a robbery suspect, but he then found a $5 bag of marijuana in Carrasquillo's pockets. "When he realized I wasn't that person, he said, 'I'm sorry, but we are still going to have to arrest you for the bag of marijuana we found on you,'" said Carrasquillo. After getting arrested, Carrasquillo spent 28 hours in central booking.... It is a scenario that has been repeated many times. In 2010, over 50,000 people, mostly blacks and Latinos, were arrested for marijuana possession. Advocates who would like to see this changed say it was the most frequent kind of arrest citywide.
NYC Police Commissioner Calls On Officers To Curb Marijuana Arrests
NORML, By Paul Armentano, Sep 27, 2011
In 2010, city police made 50,383 lowest level marijuana possession arrests [NY State Penal Law 221.10] involving cases where marijuana was either used or possessed in public. The total was the second highest in the city's history and was an increase of over 5,000 percent from 1990, when police reported fewer than 1,000 low-level pot arrests. Over 85 percent of those charged typically are either African American or Latino. However, an investigation in April by New York City public radio station WNYC questioned the legality of many of those arrested. It concluded that police routinely conduct warrantless 'stop-and-frisk' searches of civilians, find marijuana hidden on their persons, and then falsely charge them with possessing pot 'open to public view.'
Big Step Forward: NYPD Orders Officers to Stop Unlawful Marijuana Arrests / ACLU, Sep 26, 2011
In an exciting step forward for justice and common sense, NYPD Commissioner Ray Kelly has issued a directive ordering officers to stop arresting people for misdemeanor marijuana possession when the pot only becomes "public" because an officer has searched a person or directed the person to empty his or her pockets.... This end-run around state law has been a primary tactic in NYPD's decade-long marijuana arrest crusade. It's a grave injustice that hurts people and families, and cost taxpayers $75 million last year. Marijuana arrests lead to a host of negative consequences, including a permanent criminal record, loss of student financial aid or deportation. The New York Civil Liberties Union has vigorously opposed this insidious practice, and until now, Kelly has never acknowledged the problem
"NYPD Commissioner Ray Kelly Plays Down Bogus Marijuana
Arrests," / Dave Borden, Alternet Oct 4, 2011
Ailsa Chang, the WNYC reporter who broke the recent New York Police Department marijuana arrests story, blogged about comments by Commissioner Ray Kelly at a news conference this week explaining why he issued the order to his officers: "Police Commissioner Ray Kelly says he had heard multiple allegations that his officers were skirting the law when charging people for misdemeanor marijuana possession — but he says he doesn't know if they are true."
I suppose "multiple allegations" is one of way describing the in-depth report published on the topic in 2008, the report on the fiscal costs of the arrests published this year, or the extensive discussion of the arrests that's taken place in the media for much of this year. Oh, let's not forget the bill filed this year in Albany for the specific purpose of stopping such arrests.
Of course the nearly 12-fold sudden increase in the number of marijuana possession arrests was no tip-off that anything was up. And to be fair, the New York Times didn't call for a federal Dept. of Justice investigation of the arrests until last Monday, after Kelly issued the order, so that doesn't count. (But it's a good idea.)
No, there's no reason why the nearly ten-year commissioner of the department, who had been commissioner for another two years prior to that, and who has worked in important positions in the department for a total of more than 30 years, could have known to look into this before now. There was no reason to suspect anything may have been amiss until an "allegation was made" recently. None at all -- he had no way to know! I believe him -- I really do.
Marijuana Order Will Apply to All Police, Not Just "Uniformed" Cops
Village Voice, By Steven Thrasher, Sep. 25 2011
Police Commissioner Ray Kelly's memo ordering the NYPD to stop arresting people for low level marijuana possession not in plain view will apply to "all police officers," not just "uniformed members of the service," the Voice has learned.
"Commish Tells Cops To Weed Out Small-Pot Busts" New York Post, By Josh Saul, Sep 24, 2011
Police Commissioner Ray Kelly issued an internal order this week that will stop cops from making arrests for small amounts of marijuana, unless the drugs were in public view. A police spokesman confirmed the operations order and said possessing marijuana in public view is a misdemeanor and an arrestable offense, but marijuana discovered during a police search is a violation punishable by a ticket. The issue of people being arrested for possessing marijuana in public view after being told by police officers to empty their pockets has been criticized by both media outlets and civil-rights groups.
Police Memo on Marijuana Warns Against Some Arrests
New York Times, By Elizabeth A. Harris. Sep 23, 2011
Just over 50,000 people were arrested on marijuana possession charges last year, a vast majority of them members of minorities and male. Critics say that as part of the Police Department's stop-and-frisk policy, officers routinely tell suspects to empty their pockets and then, if marijuana is displayed, arrest them for having the drugs in public view, thereby pushing thousands of people toward criminality and into criminal justice system.
Critics said the commissioner's memo, reported on Friday by WNYC, represented a major change of policy. "This will make a tremendous difference because tens of thousands of young people — predominately young people of color — will not be run through the system as criminals," said Steven Banks, the attorney in chief at the Legal Aid Society, which has handled thousands of the cases. Ethan Nadelmann, executive director of the Drug Policy Alliance, an advocacy group that has been challenging the Police Department's marijuana-arrest policies, said the order was directing a significant change in the way the police deal with people they arrest for small amounts of marijuana.
NYPD Told to Stop Arresting People for a Little Bit of Private Pot
New York Magazine, Sep. 23, 2011
A new internal operations memo from New York City Police Commissioner Ray Kelly orders officers to stop arresting people carrying small amounts of marijuana, as long as it's not out in the open. Under New York law, pot possession up to 25 grams is a criminal offense only if it is being burned or in plain view; whereas, if the drug is concealed, the violation is simply a ticketable offense. Kelly's note this week reminds officers that if they take out the drugs during a search or demand that someone empty their pockets, it should not result in an arrest.

Under the NYPD's system of stop-and-frisks, which occur overwhelmingly in poorer neighborhoods, some 85 percent of marijuana arrests are blacks and Latinos, despite studies that show young whites smoke more — a fact that has not escaped the attention of the media. The new NYPD memo, titled "Charging Standards for Possession of Marihuana in a Public Place Open to Public View," acknowledges the attention being paid to the skewed statistics and dubious legality of the stop-and-frisk searches: "Questions have been raised about the processing of certain marihuana arrests," it reads. Almost as troubling as the racial slant and constitutionality questions is the NYPD's insistence on spelling it "marihuana."
NYPD Ordered to Stop Marijuana Possession Arrests
StopTheDrugWar.org, By Phillip Smith, Sep 23, 2011
Although New York state has decriminalized the possession of small amounts of marijuana, the NYPD has made a practice of stopping people -- mainly young people of color -- on the streets, searching them or demanding they empty their pockets, then charging them with possession in public view. Unlike simple pot possession, which is only a ticketable offense, possession in public view is an arrestable offense that typically results in a day-long stay in jail before the defendant can appear before a judge.
New York City and the NYPD have come under increasingly heat over the practice, which has resulted in tens of thousands of marijuana in public view arrests each year in recent years. The policy began under the administration of then Mayor Rudy Giuliani, but has continued under the administration of Mayor Michael Bloomberg, who famously admitted having smoked pot and enjoying it. Both city council members and state representatives have recently taken up the call to end the practice. A bipartisan bill to decriminalize the possession of small amounts of marijuana in public view was recently introduced in Albany.
"New York Has New Marijuana Arrest Policy"
Voice Of America, by Peter Fedynsky, New York, Sep 27, 2011
A new marijuana arrest policy in New York, America's largest city, is being applauded by civil rights advocates who say it will reduce alleged discrimination against black and Latino youth. Opponents of the old policy say it had negative implications not only for employment and housing opportunities of those arrested, but for the city's law enforcement budget as well. More than 50,000 people were arrested on misdemeanor marijuana charges in New York City last year, enough to fill any local stadium to capacity. Most of them were black or Latino males.
Speaking near Police Headquarters at a small rally of civil rights and pro-marijuana activists, state assemblyman Hakeem Jeffries said Kelly's decision represents a step toward an equitable criminal justice system. "It cannot be criminal for one group of people, and socially-acceptable for another if the dividing line is race," said Jeffries. Jeffries added that many white college students also have marijuana in their pockets, but are not asked to empty them....
Bloomberg also stands accused of hypocrisy, having famously responded to a question if he ever smoked marijuana, "You bet I did. And I enjoyed it."